On the last day of our Seattle trip we arranged to meet our friends, Mim and Steve. We took the ferry to Bremerton, where they picked us up and then we headed to Hurricane Ridge in Olympic National Park. I sure didn't expect to be in the snow on this trip! The temperature was a crisp 51' and the scenery was beautiful. When I saw the warning sign at the entrance to the park,
I was hoping we would see a bear, but all we saw were deer. The deer were beautiful, and most still had patches of their winter coats. This young buck was cooperative enough to do a photo shoot for us.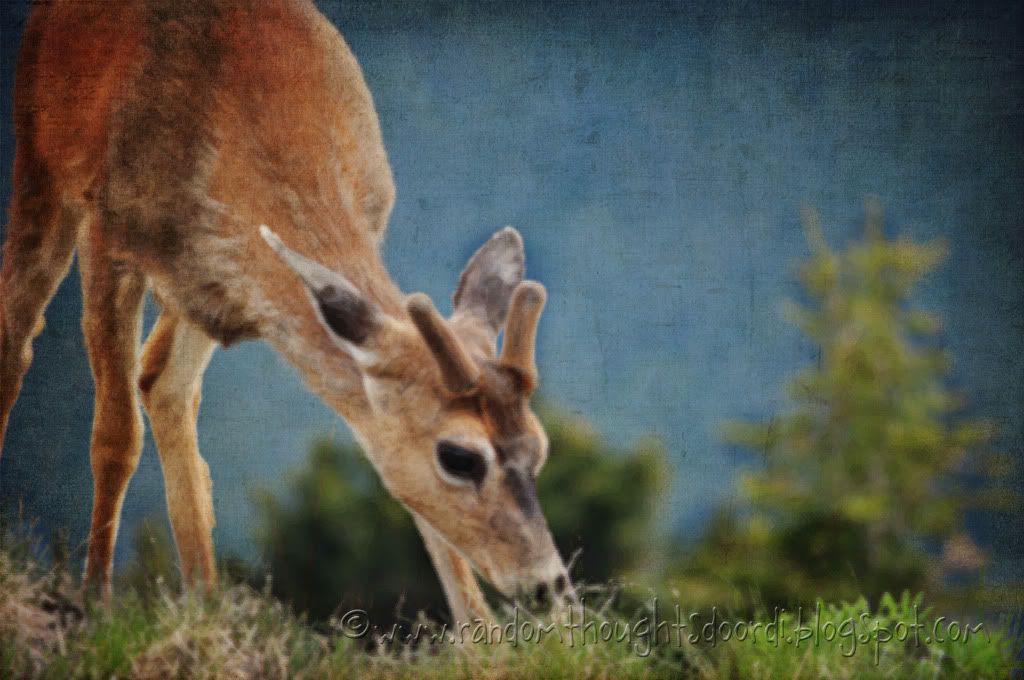 I'm using this post to link to Texture Tuesday
I love this photo of the deer, that Steve shot, with Paul's reflection in the mirror
After visiting the Ridge, we drove down the mountain to the little town of Port Townsend. It was a typical little tourist town full of small shops and restaurants. The weather was warm and nice enough to sit outside to enjoy dinner. After dinner we headed back to the ferry when we realized we would not make it in time to catch the ferry leaving from Bremerton. Luckily, I had the ferry schedule and Steve knew that we could catch the ferry from Bainbridge Island, which was about 15 minutes closer to where we were, so we made it in plenty of time.
We were supposed to leave to come home on Monday when I was awaked at 5 in the morning with terrible stomach cramps. Food poisoning
…
oh no! We had to get an extra night in the hotel, lost our return airfare and had to buy another ticket to come home. Not how we wanted to end our vacation, but overall it was really great.