I have been sneaking in little bursts of sewing the last few days, working on my Across the Seas QAL that I am doing with
Jennifer
and
Sarah
. When I chose to work with my layer cake of Kate Spain's Terrain and Kona Coal for my background I was pretty sure it would be lovely.
Yesterday, I finished piecing all the squares and got them arranged the way I thought they would look best and then I thought, YUCK, I don't like it.
Now my problem with the quilt has nothing to do with the design nor the instructions, Jennifer and Sarah made sure that those were perfect. It was me, I made so many cutting mistakes (my mind has been elsewhere of late) and I was not happy with my combination of the Terrain and Kona Coal.
Fast forward to today. All the rows pieced together and then the lovely pieced border and another border of Kona Coal and voila! I love it!
Due to my cutting errors I don't want to order more Kona Coal, so I will be making a modified version of the back that Sarah and Jennifer designed, probably using more Terrain and less Coal.
The things I loved about making this quilt were that the design allowed for a little extra leeway for squaring up the blocks and the pattern is very forgiving if your inside seams don't match up perfectly! But seriously, look at the way those seams DO match up! I am really pleased with this quilt and think it is one I might like to make again.
One thing I know for sure, I will be putting one of my new labels on the back.
I designed these labels with Photoshop Elements 9 using a tutorial I found on Julie's
blog
. I ordered them from Spoonflower. That's 63-4"x6" labels on a yard of fabric. Pretty cool, huh? These are sew in labels and there is plenty of room to write a personal note on each about the quilt. I am really happy with them.
I also ordered some twill tape labels with my blog name on them to attach to swap gifts that I make. They should arrive later this week and I will post about them after they arrive.
Thanks for stopping by,
"di"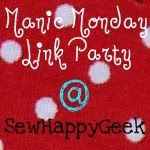 I'm linking this post to Quilt Matter's Thank Goodness it's Finished Friday.